Attack All Around is Free Fire 2022 World Champion
Thai team won the competition by just 1 point difference from its compatriot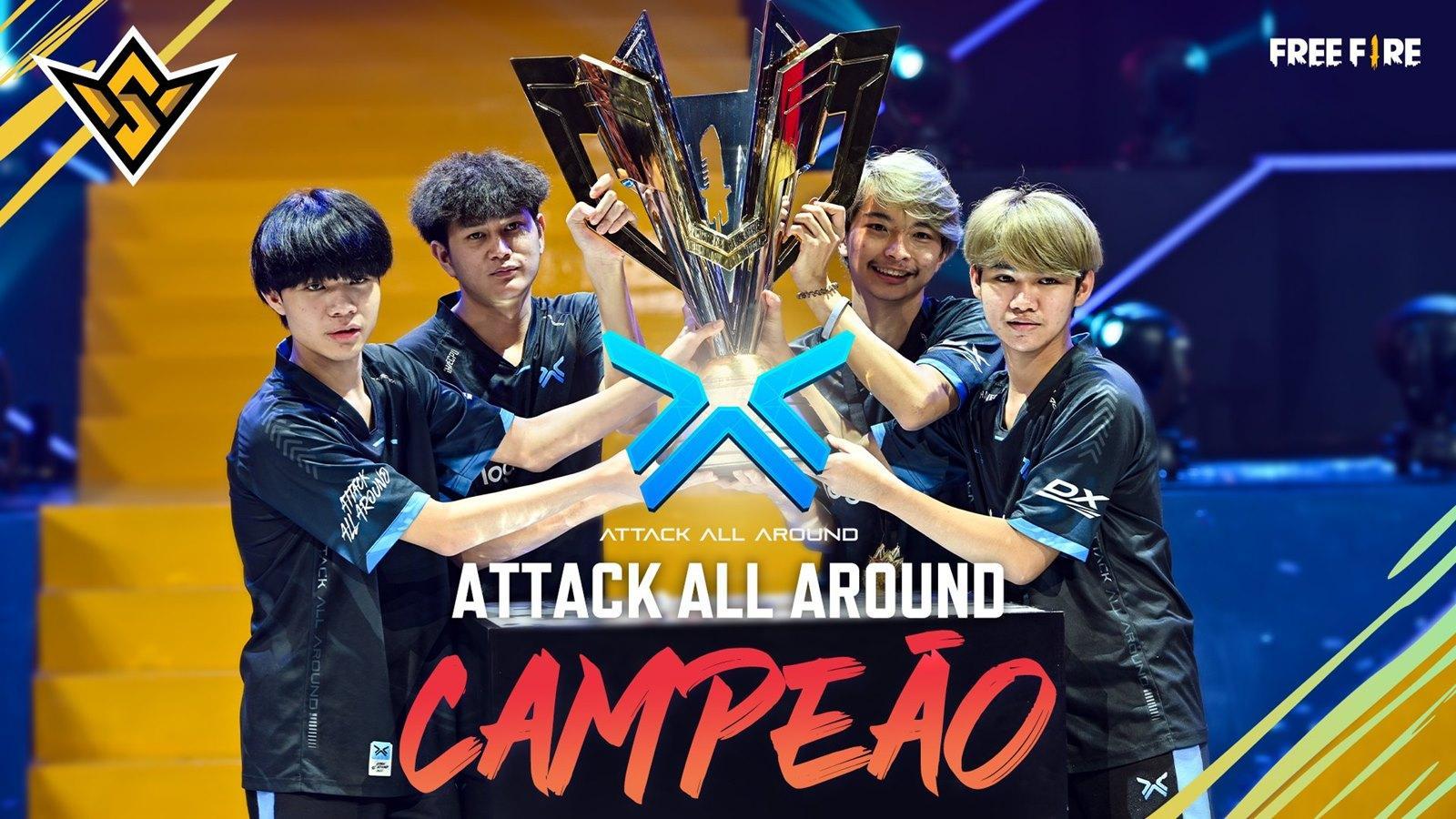 Attack All Around is the champion of the Free Fire World 2022 after winning the grand final this Saturday (21). The Thai team surpassed Evo Phoenix, accumulated a huge amount of kills and took the title of the Free Fire World Series - FFWS Sentosa . LOUD and Vivo Keyd , Brazil's representatives at the Worlds, geared up well at the beginning, but when they started to fit their games together, they couldn't overcome the champion Attack All Around .
With the victory in the competition, Attack All Around was the one who won the FF World Cup and took home the cup and the prize pool of US$ 500 thousand (about R$ 2.5 million ). It's worth mentioning that, arriving at the last fall, three Evo Phoenix players were fighting for the MVP (Most Valuable Player) title of the tournament but he ended up with the Attack All Around player: JLX .
On the other hand, LOUD reached the last fall with no mathematical chances of reaching the top, but it was decisive for the title, as it eliminated Evos Phoenix that dominated the table and was beaten by the champion Attack All Around, leaving the title to the team from Thailand.
Vivo Keyd was Brazil's hope in the last fall, although the chances were remote the Brazilian team got BOOYAH and ended the competition in third place.
Free Fire World Cup 2022: see how each fall went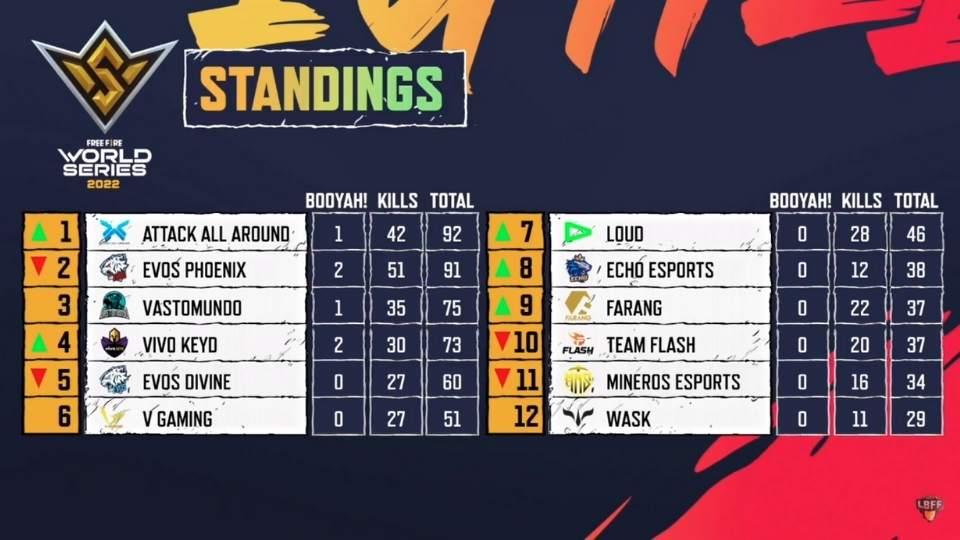 1st fall: Vivo Keyd (Brazil)
Loading Twitter
2nd drop: Evo Pheonix (Thailand)
Loading Twitter
3rd drop: Evo Phoenix (Thailand)
Loading Twitter
4th drop: Attack All Around (Thailand)
Loading Twitter
5th fall: Vasto Mundo (Portugal)
Loading Twitter
6th fall: Vivo Keyd (Brazil)
Loading Twitter
About Attack All Around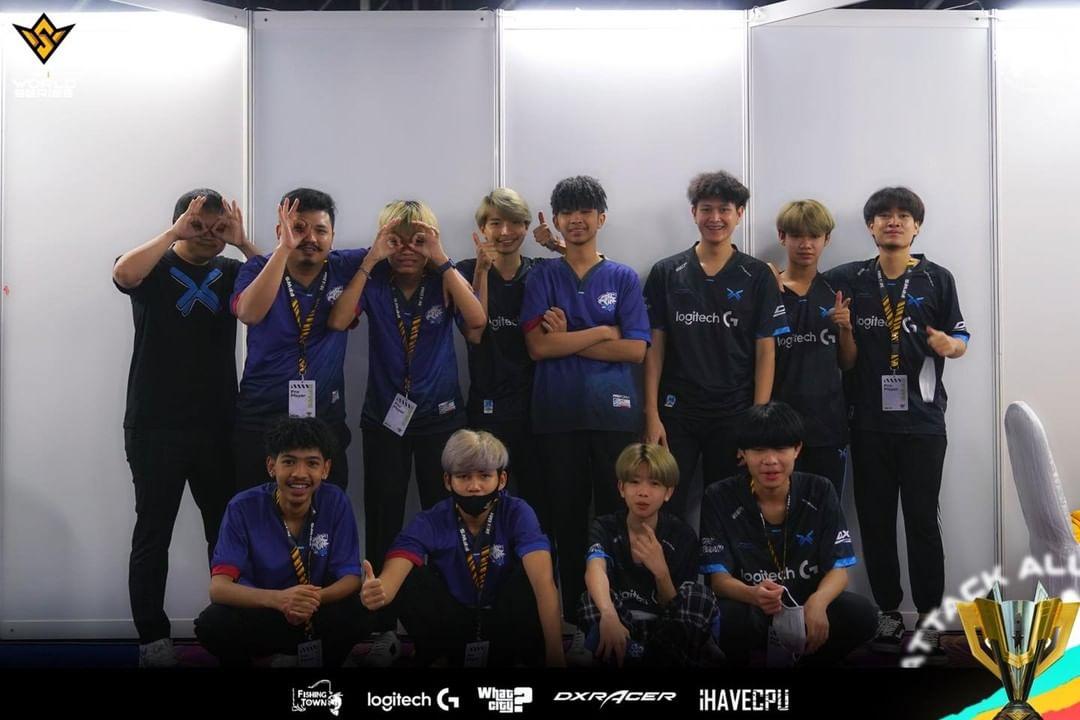 Attack All Around reached the FF World Championship after securing its second runner-up in the Pro League Thailand in this first stage of 2022. The team finished the Grand Final of the sixth edition with 154 points, being two Booyahs and 67 eliminations. In their last participation in the Free Fire World , they fell by the wayside in the Entry Phase and ended the competition in 17th place - Sentosa was the chance to write a new chapter in history and topple the EVOS Hegemony.
In the FF world, the Attack All Around cast was formed by the players:
HOYSANG
POKGOD
POONGOD
BRUNO
JLXNOKILL
KERORO
JAZPER (Technician)
The Free Fire World will return in the second half of 2022, when Garena will disclose a new date and location.